Dappled Gray Days at Giorgio Armani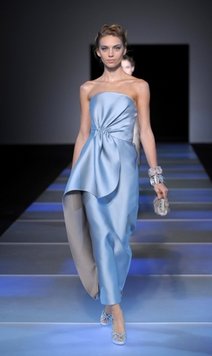 Milan – The final three Graces moment in
Giorgio Armani
's signature collection's runway show staged Monday, Sept. 26, in Milan said it all. The bad girls have been banished from Italian fashion. Call it the return of purity to modern dressing.
Three thoroughly lovely ladies almost glided across the runway in Armani's south Milan show-space, their eyes closed almost beatifically, their arms linked, their figures clothed in precious crystal encrusted pearly gray evening dresses. Part evocative re-creation of 1930s Hollywood glamour, part idealistic muses from an Ancient Greek philosopher's lyceum, their purity underlined by the backdrop and soundtrack - a projected moonlit night on a dappled sea, thunderously roaring breakers hitting a beach.
Silvery gray was very much the dominant color in this Emporio spring 2012 collection, and fluidity the defining silhouette. Whether it was elongated posh coolie jackets all cut without lapels, mannish dress shirts and cool palazzo pants, things were all thoroughly sleek. Yet, while its silhouette was mega clean, the collection's materials were hyper opulent - especially gleaming satins in mixes of azure, jade and misty dawn grays.
Finished with Oriental details - double Obi belts or geisha-style leather petal head bands - this was exactly the sort of collection one expects from a mature creator looking back on his own career and editing his highlights with a fresh sleight of hand new chic.
Two days earlier, in his Emporio Armani collection, the designer sent out what he termed "Neo Deco," his play on words on the big revival of the Milan season - Art Deco.
With his runway packed with updated flapper dresses - like everyone in Milan, he cuts them above the knee and not halfway down the shin like in the 1920s - and half the models heads covered in straw cloches hats with huge black ribbons, this was very much speakeasy chic. However, this was an erratic show, and a second half of oddly curling sequined dresses, more caper than clever, suggested an atelier trying a little too hard, and not being given the required edit.
That said, Emporio was still a rather special black and white ball, rather aptly given that so was much Art Deco, where exact graphics and machine-shapes were all the rage in a movement whose peak pre-dated color photography.
No wonder it was a dappled gray season for Armani this week in Milan, as he gave every influence his own twist, remaking Deco with his own snazzier, timeless Italian signature style.
POST : 2023-06-04 VIEW : 22187
Brand Forum Comment
More Watch Brand Topic