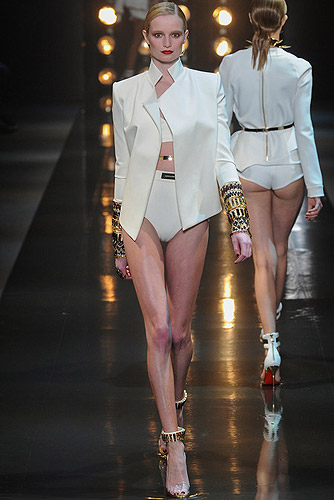 Alexandre Vauthier S2014CTR fashion runway show reviews

www.alexandrevauthier.comParisFashion WeekFashion Brand
Alexandre Vauthier S2014CTR fashion runway show reviews
Rita Ora rocked the closing number from Alexandre Vauthier's July Couture show at the MTV Video Music Awards last month.

Whether it's the power of the red carpet or something else, Vauthier reports that he has forty new buying appointments on the schedule this season.

That's not nothing for a small brand like his. There wasn't anything on the scale of that crystal and feather extravaganza in Vauthier's showroom presentation today, but the designer doesn't shy away from flash, whether in the gold bars that decorated the cuffs on his suit jackets, the second-skin fit of a black and white sheath, or the icy blue and black print he lifted from a photograph of the lighting setup at his Couture show back in January.

Vauthier makes fit a priority, and that will eventually set his collections apart, but because this one comes solely in black and white with that touch of light blue, it might have a hard time rising above the fray on the shop floor. He'll need to work on developing some distinguishing characteristics as the line matures. In the meantime, sporty white track pants with gold and black stripes down the sides and a matching tank and bomber jacket stood out from the rest.