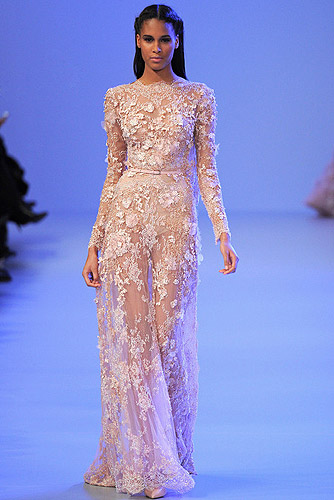 Elie SaabSpring 2014 Ready to Wear
Elie Saab S2014CTR fashion runway show reviews

www.eliesaab.comParisFashion WeekFashion Brand
Elie Saab S2014CTR fashion runway show reviews
The nineteenth-century Dutch artist Sir Lawrence Alma-Tadema painted scenes from the Roman Empire. His subjects always seemed to be reclining amid marble statuary, and there was a good chance that the Mediterranean Sea was shimmering in the background. Elie Saab set out to capture a bit of that idyllic ambiance with his new couture show. His pastel colors—blush pink, hydrangea blue, and lilac—were lifted from an Alma-Tadema canvas, and the collection's empire waists and gently draped volumes were suggestive of classical dress.

Saab is synonymous with red-carpet sparkle, and there was plenty of that here, as usual. But perhaps sensing that a refresh wouldn't go unappreciated, interspersed among his signature embroideries and appliqués were a handful of gossamer-light pleated goddess gowns. Strapless, plunge-front, or one-shouldered, the plissé numbers felt of-this-moment. (A quick study of the Golden Globes and the SAGs indicate that awards-show bling is trending downward.) Also pretty: a trio of flower-print gowns that shaded from black near the neckline to white at the hem, with countless colorful blooms in between. The panniers at the hips of the silk gazar number gave it a fairy-tale feel, but we could see either of the other two, in gauze or silk mousseline, turning up on a celebrity. It was likewise nice to see Saab move beyond his monochromatic comfort zone with a pair of long dresses boasting fluid skirts in an ombré of violet, citrine, vivid blue, and coral, like an Alma-Tadema sky.