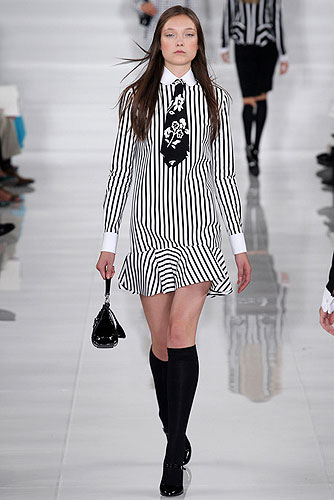 Ralph LaurenSpring 2014 Ready to Wear
Ralph Lauren is feeling mod for Spring.

www.ralphlauren.comNewYorkFashion WeekFashion Brand
Ralph Lauren is feeling mod for Spring.
Ralph Lauren is feeling mod for Spring. To start, he showed a sixties A-line shift in black with a contrasting white collar. Patent leather Mary Janes and knee socks gave the outfit a youthful zing that was unexpected from New York's elder statesman. Actually, almost half of the fifty or so looks that followed came in black and white: a three-piece pantsuit in tattersall check, a floral patent trenchcoat, a striped shirtdress accessorized with a flower tie, and sweater and miniskirt sets. Some of the models sported space-agey plastic goggle frames.



Lauren never does things halfway, and he didn't get where he is today by following trends, but this time his enthusiasm didn't quite work in his favor. The sixties aren't really resonating on other New York runways this season, which made this collection feel out of step. There were a few of the designer's dependably elegant pantsuits, but the black-and-white looks became repetitive fast. When color did finally enter the picture, it was Crayola bright—lime green, acid yellow, neon orange. Not easy hues to wear. On the upside, Karlie Kloss's cobalt-blue strapless gazar gown was gorgeous, and a strapless cape dress in red cady will certainly make an entrance.