Apparel business
Style life : Daily fashion
2017-05-27 08:20

"Now, I know that Anna hates being the center of attention, so this all is probably killing her—but we love it," said Michelle Obama as she took the stage at the ribbon cutting of the Metropolitan Museum's new Anna Wintour Costume Center this morning. The first lady, sporting a green floral Naeem Khan, was speaking to a crowd of—as she put it so accurately—legends, including the likes of Marc Jacobs, Alber Elbaz, Donatella Versace, Olivier Theyskens, Alexander Wang, Ralph Lauren, Diane von Furstenberg, Calvin Klein, and many more. "The truth is, I'm here today because of Anna. I'm here because I have such respect and admiration for this woman whom I am proud to call my friend," said Obama. Adding, "thanks to Anna and so many other dedicated individuals, the Met will be opening up the world of fashion like never before."

The new world at the Met was brought to life by the soon-to-open Costume Center and its inaugural exhibition, Charles James: Beyond Fashion—a preview of which was given to guests after the first lady's opening remarks. Wandering through the near empty (and Met Gala prepping) wings, the attendees made their way to the exhibition space. (Not without pausing to view the towering Charles James dress constructed entirely of roses in the lobby —"I have Michael Kors in my picture! Photo-bombing," exclaimed Sarah Jessica Parker as she snapped away—and getting a bit lost along the way. "This is a sitcom. And a divine one at that," narrated Kors.)



The exhibition, in contrast to those of recent seasons' past, is decidedly pared down. The emphasis is clear: The viewer is here is to see the dresses—James' elaborately constructed ivory silk satin ball gowns, famous (or perhaps infamous?) little wrap "Taxi" dresses, and the voluminous "Tree" dress created for socialite Marietta Tree being just a few. Rotating X-rays, developed by architecture firm Diller Scofidio + Renfro, allow the viewer to thoroughly examine the inner workings of many of James' painstakingly created works. Original sketches and (some rather punchy) writings add further reference. "James was someone who engineered the hidden physics of a dress even though he is remembered for the loud surfaces of his designs," explained head curator Harold Koda. "He is an artist who just happened to work in fashion. We believe that the public will leave this exhibition with an understanding of his great innovations."



This exhibition and space will see "hundreds of thousands of visitors, many of them students," said Obama. "That's really who I think about. Fashion isn't an exclusive club for the few who can attend a runway show or shop at certain stores. This center is for anyone who is curious about fashion and how it impacts our culture and our history."

2017-05-27 08:15

Johan Lindeberg is perhaps his own best advertisement. Since launching BLK DNM scarcely three years ago, the former Diesel CEO has taken a denim line and turned out a lifestyle. "Lifestyle" not in the traditional sense of a brand hawking home goods, but in the sense that Lindeberg thinks big. "We want BLK DNM to be part of a cultural shift." Where others might see a downtown Manhattan culture that's devolved into pleasures for an elite few, he sees a playground ripe for inspiration and, yes, even ideology. It's earned the brand an impossibly lissome fan base of women like Caroline de Maigret, Karlie Kloss, and Anja Rubik, who appear regularly on BLK DNM Close-Up, the label's lush photo blog. Despite this catwalking constituency, Lindeberg easily dismisses the need for a traditional show: "I don't design for the runway; I design for the streets." For Fall he opted to forgo the brand's usual lookbook, instead taking to downtown alleyways to shoot with his fiancée and muse, Kenza Fourati. (Since picking up a camera for the first time in 2011, Lindeberg has lensed a campaign for Absolut Elyx, and estimates he's taken more than 50,000 shots.)

Lindeberg proves himself a compelling curator of the coolest elements of any given decade, particularly the sixties and seventies. For Fall, BLK DNM proposed Perfecto-style leather jackets, with snap-off colored fur collars for mixing and matching, an investment-worthy piece if ever there was one. Outerwear is one of Lindeberg's strong suits, and reversible shearlings and a buttery black leather trench were standouts. One wickedly louche silk smoking robe fairly begs to be paired with a bare clavicle, à la Fourati. There's a new eye to pattern, as seen in a digital white rose print, a favorite motif of Lindeberg's (vases of them dot his Lafayette Street showroom). Increasingly, he says, it's not just the willowy south-of-14th-Street set who are slipping into his brand's skinny jeans, thanks in part to an immaculate eye for translating menswear elements to women's wardrobes. Razor-sharp tux jackets, spruce tweed minis, and long peacoats à la Sorbonne '68 (Paris' student revolutions are a favorite Lindeberg touchstone) should appeal to uptown customers—if not to ladies who lunch, then certainly their daughters.

2017-05-27 07:57

From blockbuster premieres to opening-night fetes, the red carpet saw plenty of A-list action this week. The Other Woman's trio of leading ladies stepped it up for the L.A. premiere, opting for summer-ready dresses. Cameron Diaz smoldered in a Stella McCartney LBD, while Kate Upton donned a silver Dolce & Gabbana mini smattered with white floral appliqués. Leslie Mann went for a bright and breezy Spring '14 Monique Lhuillier floor-length number with a pink bodice and fiery skirt.

Kate Middleton continued her Royal Australian tour, and, per usual, she's been impeccably dressed for every outing. We've noticed that the Duchess of Cambridge has been wearing a slew of American designers, including Diane von Furstenberg, Lela Rose, and Jenny Packham, to name a few. Paired with a navy hat and a red poppy pin, the blue and white Michael Kors Spring '14 coatdress she stepped out in for the ANZAC Day march and commemorative service on Friday morning was a highlight.

Topping this week's best-dressed list was Emma Stone, who chose a sophisticated Prada number for the premiere of her new film, The Amazing Spider-Man 2. The nude georgette slipdress was suspended by a sleek metal harness and boasted plunging sides. Finished off with strappy silver sandals from the Italian powerhouse, the look was one of Stone's best yet.

2017-05-27 20:50

After a long winter, things are finally heating up, and I'm planning on spending as much time outside with the kids as I possibly can. To be precise, we'll be barbecuing with friends. While searching for outdoor entertaining gear, I came across this Missoni Home hammock. How amazing is that? Perfect for lounging, reading, and recharging before Monday comes along.

2017-05-27 20:45

If Patrick Kelly's legacy has been a somewhat neglected one, that's soon to change, with help from the Philadelphia Museum of Art's upcoming Patrick Kelly: Runway of Love. The retrospective of the Mississippi-born designer, whose skyrocketing career was cut short when he died of AIDS at age 35 in 1990, offers a comprehensive look at Kelly's cheeky brand of femininity.

This irreverence earned him a celebrity following, including Grace Jones, Isabella Rossellini, and even an aged Bette Davis, who championed his garments in an effort to find investors for the young designer.

After a start working at Atlanta's Yves Saint Laurent boutique, Kelly cut his teeth as an American in Paris, creating costumes for nightclub vedettes. By 1988 he had found the sponsor he needed in Yves Saint Laurent chairman Pierre Bergé. Kelly would soon become the first African-American designer inducted into the Chambre Syndicale du Prêt-à-Porter des Couturiers et des Créateurs de Mode. A previous retrospective bowed at the Brooklyn Museum in 2004.

Runway of Love boasts photography by the likes of Pierre et Gilles, runway videos from Kelly's five years of shows, and more than eighty archival ensembles, including his take on Josephine Baker's infamous banana skirt and a series of Moschino-esque, button-studded body-con frocks. The exhibition's mannequins come in a variety of skin tones, a nod to Kelly's embrace of women regardless of race or waistline.
NEWSLETTER SUBSCRIBE (EMAIL)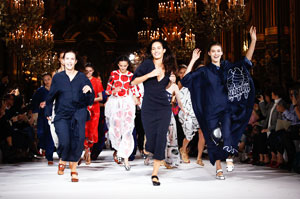 Online Fans