In a Chelsea photo studio last month, the scene was a jungle of sorts.
In a Chelsea photo studio last month, the scene was a jungle of sorts. Nothing as literal as palm-frond props—but there was a baby tiger and toxic ooze seeping out of jumbo Polaroids that Peter Beard had laid on the floor. Beard's friend/muse/producer, Natalie White, warned no one in particular: "Don't step in the goo! You'll burn your feet off!"
Beard, naturally, was braving the terrain in socks. Now in his seventies, the man famous for his adventures in Africa seems as dismissive as ever of caution or over-planning. Beard made his way through the chaos in sweatpants, a wet paintbrush in hand. "I try and make it messy," he said. "We don't like chic."
That "we" includes Raphael Mazzucco, the photographer Beard partnered with for the four-day shoot. White (who's also worked with Olivier Zahm and Will Cotton) made it happen, but the two photographers are friends from Montauk, where both have houses. Another thing they've got in common: a portfolio full of beauties. Beard's contains everything from Veruschka for Vogue in the seventies to the 2009 Pirelli calendar; Mazzucco's, the stacked rosters of Sports Illustrated and Victoria's Secret. They were working separately, thus offering Angela Lindvall, Noot Seear, Pamela Anderson, and the other models who came by the opportunity to do a two-for-one. And each was flexing his own style: Beard double-exposing images of African wildlife over models and Mazzucco experimenting with baby powder and colored gels.
Both were happy to leave a lot of the process up to chance, and neither had any particular plans for the images. "London would be good," was as specific as Mazzucco got. For the time being, the only place to see them is cbamd.com.
POST
: 2019-09-21
More Apparel Brand News
NEWSLETTER SUBSCRIBE (EMAIL)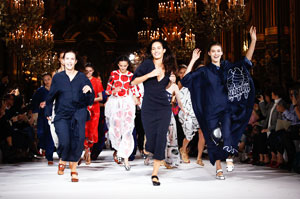 Online Fans