Company Name:Haining Bierte Knitting Co., Ltd.
Company Introduction:
Haining Bierte Knitting Co.,Ltd. was established in 1943, is a limited-liability company with a total captital of RMB 80,000,000. 820 Clerks and workers and occupied 44,050 square meters. The Company that ownes new imported machines has good function production lines from knitting, dyeing, finishings failoring, there is a capacity of producing 6,000,000 Pcs. Shirt and Pants,1600 Mt. Knited fabric and 3000Mt. in dyeing each year. The main products of the company are T-shirts and sportswear with materials of pure Cotton, Polyester/Cotton, Computer Jacquard, Rib, Fleece, Pique, Polar fleece, etc. All of them are exported to Australia, Japan, America, north and west European countries and districts, and they are very popular in those countries. The company that has the right of import and export since 1995,Welcome you to contact us.
Business Type:Manufacturer
Year Established:1943
No.of staffs: 51 - 100 People
No.of workers:501 - 1000 People
Export area:Worldwide
Building area:44050square meters
OEM/ODM:False
Address:
Telephone:
Fax:
Previous Company:Shanghai Tirui INC
Next Company:Qingdao Better Swimwear Manufacturing Co., Ltd.
Gel coat
Nightwear
Overalls
Step skirt
Sheep leather
Ski jacket
Yoga clothes
low-rise pants
bare midriff
Sleeveless
Underwear Waichuan
Square pants
Skateboard pants
A dress
Bottoming shirt
La crotch pants
Kimono
Maid installed
Hanbok
Fitness pants
Custom-made suit
Outer clothing
Straight Skirt
Knitwear
Western style clothes
Wclose
Chiffon shirt
Fishtail skirt
Chiffon Skirt
Half Skirt
Puff Skirt
Pleated
Underclothes
leggings
Bats shirt
Lucy Unit installed
Job loading
Wide leg pants
swallow-tailed coat
Invisible Underwear
POLO SHIRT
Tights
Raincoat
Muffled Skirt
Jacket Dress
Festival Dress
Kilt
tailored skirt
Flare Skirt
Bell-shaped skirt
NEWSLETTER SUBSCRIBE (EMAIL)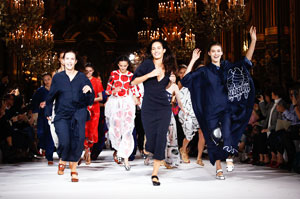 Online Fans