Apparel business
Underwear Waichuan


Underwear Waichuan (Lingerie Look) is a style of dress, underwear features refers to the design style dress coat. Mainly as follows: bra, lace underwear be used to coat combination, or as the composition of coat elements, gives a special impression.

Waichuan underwear cause in the status quo will never meet the designer who's inspiration, and provide them with a talk about "deconstruction" of opportunity. Wearing Inner Dress Outside the deconstruction of traditional way of dressing. Not be considered to create a new style design, fashion designers sometimes need to do is to have a new mix of styles.

Paul Gaultier will be "missile-style bra" to wear out in the men's striped suit, but has not been a huge fan xiang. Madonna 1990 Madonna is rumored underwear world tour designed to wear Gaultier gold "cone type" bra, underwear Waichuan to flourish. 1994 was a year of global popular magic bra. Especially popular in the summer of 1998 Dress is Waichuan underwear style of a classic example. Now, there's Ray's Lady Gaga modeling underwear Waichuan and bottomless love equipment, Gaga has won every time there are a lot of attention, the United States called her a "new Madonna", the Chinese seal her "the U.S. version of Lotus sister. " Of a star Katy Perry and Paris Hilton also began to follow suit to play GaGa. Spring and summer 2010 field show, underwear Waichuan "deserved a star. Childlike interesting from Marc Jacobs to the mesmerizing sexy Dolce & Gabbana and Christian Dior ... However, their styles are different than the past, very sexy" underwear outside wearing "a lot of convergence, between the orthodox and the sexy get weighed. A pleasant surprise is Marc Jacobs brought us," underwear Waichuan "can play innocence. Jean Paul Gaultier to match with clothes and underwear, So rave parties there. Chane launched a bottomless containers, love the old K's may be inspired by Lady Gaga. whether the bra to wear a shirt outside, exposed bras or bras perspective, even without the end of installation . They expressed the emergence of the traditional does not meet the designers, a rebellious spirit. just like Vivienne Westwood said: "Tradition is stupid."
NEWSLETTER SUBSCRIBE (EMAIL)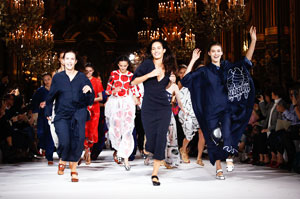 Online Fans