Apparel business
Chinese tunic suit


Chinese tunic suit is a garment, is named after the Chinese revolutionary pioneer Sun Yat-sen suit for men. About each of the two upper lid and buttons with pockets, lower body is a Western-style trousers, from Sun to promote its name.

Tunic dress in Europe and the United States the advantages of a broad absorption formed on the basis, Sun Yat-Sen Chinese combination of Western-style clothing and apparel, designs a straight collar with bags of clothing covered in the four bags, known as the tunic, after several decades , tunic very popular, like the standard of China's man clothing. As always in public wearing Mao tunic, tunic West, the "Mao suit." In the 1960s and 1970s, hundreds of millions of Chinese people mostly wear Chinese tunic suit. Chinese tunic suit jacket pocket insert pens, on behalf of culture. After 80 years of the 20th century, suits and fashion became popular. 60th anniversary of the founding 2009, The People's Republic of China President Hu Jintao and other state leaders for the world dressed in tunic, the world!

Tunic of the first models: jacket was standing collar, front placket, nine out buttons, four pressure Pán pocket, after the back of the shoulder, dark pleated back slit and a half belt. Established in 1922 to turtleneck tunic, 7 buttons, bags under the pocket for the Tigers. Then change the current style: jacket lapel to stand there hook and eye; three opening piece body suit, the former placket, five out buckle; 4 Posts bags, each with bags and a clear button cover, for the flat to bags, bags under the tiger, symmetrical; left right-hand stitch bags cover approximately 3cm Department of Plug document left port. High tunic, in the cuff area has three buckle. Pants with matching tunic, generally use the same Western-style trousers the same color material.
NEWSLETTER SUBSCRIBE (EMAIL)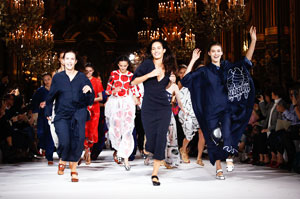 Online Fans