Apparel business
Sportswear


Sports competition dedicated to the clothing. Usually by sports specific requirements designed. Broad sense, also includes outdoor sports wear clothes.

History

ancient life in sports wear more clothes when. Modern sportswear appeared in the mid-19th century. At that time the increasing popularity of sport in Europe, it has been designed for hunting, playing golf and other sports who designed clothes. 19th century European women have begun 90 years involved in tennis, cycling, swimming and other sports, tennis clothes and horizontal stripes and thus a sailor Shandeng very popular. 20th century, the increasing variety of sportswear, and quickly spread around the world. Chinese athletes since the 1911 National Games began wearing sportswear. Not only athletes wear modern sportswear, but also become an outdoor physical activity, travel light clothing.

in textiles, sportswear and leisure clothing market, has been a leader in other products was well received by consumers, especially in recent years stressed the functional nature of the product, but also deeply critical acclaim, but the Only the real experts can understand the meaning of functional sportswear, such as the malti-layer, onino-skin and so on, consumers have to understand the true function of wear, then the right message to be professionals.

Since 1994, many companies based on fiber characteristics, successfully developed a series of functional fabrics, such as Tactal, Gore-Tex, Lycra,, Polortec fleece and so on, each according to their end-use demand for , respectively, all in the market place. Also made fiber companies have found that the "fabric system", the end-use is a fabric, rather than the fiber itself, such knowledge, with the figure of a pyramid-shaped distribution of the market, it will encourage manufacturers to actively towards the top goal, the development of new fiber .

market targeted, the higher the chance of success, depending on the focus of demands to distinguish between different categories, such as age, health, conditions, pop, sex ... ... and so on to 1945, for example baby boomers born after now aged about 50 years old, basically, they possess a power saving and spending is affecting the market mainstream, but with age, you can learn from Figure 2; old and new markets, increasing the impact of surface large, and is no longer follow his steps.

Today, apart from movement, in general, consumers have begun to express concern its own sportswear, with what kind of functionality? This share has gradually expanded the demand trend. Presented the views of the future novel, the ancient aesthetic presentation is "naked", which means that the future of sportswear designed to be shaped according to human body structure, movement will be resistance and binding strength can be reduced to a minimum, look forward to the new product can respond to more many different needs.

sportswear clothes shopping guide

sportswear-style clothes are generally divided into leisure suits T-shirt and light jacket. Tradition, and it is the most comfortable style is a two button or 3 button. If you want some of a more tight, they should choose a buckle or four buckles.

too high or too low is not suitable to wear with patterns or plaid leisure suit jacket; they are too prominent a.

a man of medium build and wearing a plaid shirt is not too difficult to see, but the basic principles of choice of such coat color should be pure and simple style.

the United States Department of the famous men's large department store that is now the preferred leisure suit jacket brands include armani, calvin klein, kenneth cole as well as the boss. The designers of these brands focus more on tailoring and strict selection of high-quality pure wool fabrics. Of course, their prices are higher than the normal brands (450 U.S. dollars or higher).

Strictly speaking, light shirt and leisure suit jacket is a difference. The main difference is that the current color - light jacket are generally monochromatic, and the common black and blue; leisure suit jacket colors are more varied, it can be patterned or plaid.

In the past, leisure suit jacket and light shirt difference is that the choice of buttons - the use of brass buttons lightweight jacket. However, according to the views of armani: brass buttons are no longer popular.

fashionable dress is to buckle the top one or two buttons.

the traditional dress is the middle button that button.

light shirt with dark wool trousers to wear law, formal occasions, second only to suits.
NEWSLETTER SUBSCRIBE (EMAIL)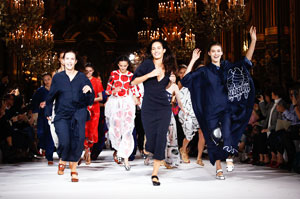 Online Fans