Apparel business
Dance clothing


Dance performances of clothing and apparel. It is the role of the external shape of an important part of the stage is an integral part of the integrated arts.

To illustrate the image of the role of age, occupation, identity, personality, show times, national, regional and other characteristics; the same time to highlight the individuality of different dance works of art. Enhance the artistic appeal of characters.

Clothing Features:

① to maximize the need to adapt to dance, that is lightweight fit, stretch freely, can be applied to a variety of rate movements. Some of the clothes designed for a specific dance, with a special structure and materials, such as streamers, mantle, etc., resulting in momentum.

② dance clothing by modeling tools to different forms and colors to exaggerate the role we expected and the mood, express a different dance, different emotions.

③ According to the method of virtual dance performance, exaggerated, concentration and characteristics of lyrical beauty, dance clothing must be designed to use decorative style, clothing and daily life to avoid duplication, which in the garment structure and use of color, but they have to change or stress make up and dance coordination, so as to enhance its aesthetic value.
NEWSLETTER SUBSCRIBE (EMAIL)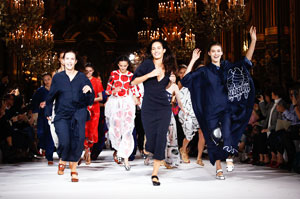 Online Fans