Apparel business
Bike service


Riding exercise professional sportswear.

Cycling athletes speed, endurance and skills of the fierce competition, is also a high-riding equipment Competition. Subject to the determination of riding styles, color combinations have been carefully considered, and the choice of functional fabric design and development is the key. From a professional point of view, divided into cycling clothes underwear riding, road riding clothes and riding jacket three. From the type can be divided into: Men riding clothes, riding clothes and riding accessories women. And riding accessories can also be divided into riding gloves, riding sleeve, riding hats, riding shoes and riding coat.

Close riding wear underwear because of the comfort fabric demanding. More cold weather, usually made of heat retaining, breathable, thermal insulation, good polyester fabric; weather than hot, sweat, breathable, lightweight fabric Quick-drying washable preferred, for example, polyester mesh fabric. Now many companies are again sterilization, deodorization as a focus of the study. ODLO riding underwear company, launched in 2004 called effect of deodorizing fiber, polyester fiber, not the eye by adding silver ions, which can effectively reduce the growth of bacteria underwear.

The biggest road cycling clothing fabric is characterized by emphasis on protection, personal and comfort, and add some detail design.

The improved polyester fabric is not only high strength, elasticity, extensibility, good wear resistance, durable; and use of capillary action, with good permeability and perspiration resistance, can quickly exhaust a lot of sweat, keeping the body surface drying.

DuPont developed the Cool-Max is now the most popular cycling clothing fabrics, super dehumidification, ventilation, both quick-drying, abrasion and UV resistance of a number of functions, can also quickly eliminated from the body moisture to hot flashes regulate body temperature. Experimental results show that maintaining proper body surface temperature, may enhance muscle energy, reduce fatigue.

Colder weather, the riding coat must be selected permeable, breathable, warm and good fabric, usually used on the back of pile fabrics. Such as: Revi company introduced PaveFleece, positive level, suitable for sublimation transfer printing; back of the pile, warm, comfortable and most suitable for cold weather riding wear.

Elastic Lycra fabric close to the skin, reducing leg and the friction between riding pants, to prevent wear thigh injury. If Revi company can be developed dyeing polyester / Lycra warp knitted fabrics, suitable for thermal transfer printing, and integration of aerodynamics, very suitable for high speed riding sports, and have good wicking and breathability. Again, Revi launched the heavy nylon / Lycra warp knitted, also has good wicking and breathability, more suitable for cold weather wear.

Highway riding is dangerous because when the relatively large, because after riding clothes have reflectors, reflective materials, reflective character is not just decoration, it is essential for riding sports and equipment, "night-vision distinguish" design! Night in order to prevent damage to vehicles on the cyclists, most of our accidents happen at night, in which car accident on the ride are more than 92% as against cyclists caused no night vision equipment. Such as the Netherlands, riding clothes and designed using reflective materials are "American 3M 500 Pearl Vision Korea" reflective series, visual distance of more than 300 meters, which can effectively prevent the danger when riding.
NEWSLETTER SUBSCRIBE (EMAIL)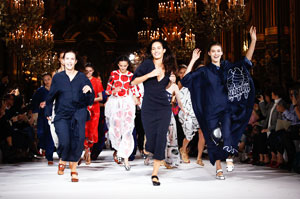 Online Fans