Apparel business
low-rise pants


Di Yaoku is the waistband in the belly button below to hip bone as a baseline, the full display of people's waist. Di Yaoku standard female navel waist should be located on the location of the width of three fingers. In broad terms, as long as the waist below, can be referred to as Di Yaoku.

Di Yaoku (English: hip-hugger) has become the biggest range of fashion, as Di Yaoku than in the past, back head even lower, as low as people can not understand. Xinmin Evening News has an international news on a "young man could not understand, so fashionable dress, the United States's suggestion: Wear Di Yaoku fined 500 U.S. dollars" news. The news that some U.S. congressmen that "no longer exposed to the young Di Yaoku underwear inside the first turn a blind eye." Should be on "any person wearing Di Yaoku violation, fined and sentenced."

But in Shanghai, now the most fashionable Di Yaoku is more than "inside waistband underwear exposed head", is already showing a length gluteal cleft it! Said to have underwear manufacturers to meet this trend has focused on the development of production in low-cut pants to wear when exposed Di Yaoku not "panties first," but 2-3 cm of the "gluteal cleft curve."

Far the most popular are "the most avant-garde", "pioneer-type" Diyao Ku, head left and right waist has been lower than the hip, waist of trousers stuck in "unencumbered" a piece of meat on the hip, I fear that confusion about this location, specifically consulted the medical profession, say that two prominent around the waist is called the iliac bone nodules. Di Yaoku waistband around the location to the iliac crest has been under 4-5 cm! Such a low waist first, with a little digging around and goes, or else exposed "underwear head", not Lutun ditch, is impossible. This holds many lessons for the most fashionable.
NEWSLETTER SUBSCRIBE (EMAIL)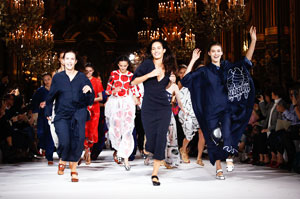 Online Fans