Apparel business
Wide leg pants


Three of the last century, 40's, wide leg pants for helping women who escaped from the corset of the dress out of the favored. Wide leg pants became popular in China began in the 20th century, 80's, 80's wide leg pants are mostly floating in Dacron or yarn texture, and generally very high waist.

With the trend of regression of 40 years, finally rival leggings, wide leg pants quietly between the T station to occupy half. The beginning of autumn, the streets everywhere The wide trousers on Qingwu flying, loose trousers for the simple outline with the atmosphere, close the cut, which also highlights the beauty of female curves, displayed its heroic posture, slim. Slender legs wearing wide leg pants have a unique advantage of the natural and petite the same as if clever with sashay, which is full of flavor and a wide leg trousers women is the new season's most fashionable "pants" election.

Now popular wide leg pants both for leisure and holiday wear section, but also for all kinds of formal models of elegance. Normal life, wide leg pants look approachable, with a pair of comfortable flat shoes, a big soft bag, gives a quiet, cozy holiday mood. If you want more womanly some, lace it with a little vest, to make a romantic hair style, giving a new style of wide leg pants.

The rules of the fashion industry is the turn of reincarnation, suction leg pants and then continues to spread in a few years, in seven 80's wide leg pants fad now is back with 09 in the major spring and summer T stage steal the show! Although due to the high demands on the body to make public some daunting, but it will not prevent the tide to go in front of the MM to enjoy the fun of the wide leg pants and beautiful.
NEWSLETTER SUBSCRIBE (EMAIL)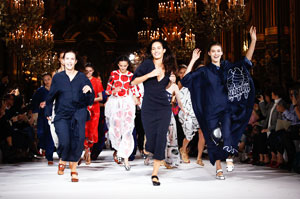 Online Fans