Apparel business
Smock


Han Chinese clothing blouse

If the Han Chinese clothing by points from outside to inside, then both can be divided into smock draped over the outside of Chinese clothing windbreaker cloak similar to the function of the class.

Supplements of the formal part of the worn.

Shirt inside the shirt in fact.

Within and outside the style shirt worn the same shirt, only white, mostly for the right collar of junction (now pajamas do not have learned the right of junction style? Is because it feels comfortable on the lead although the comfort could be exposed to too much round neck is as uniform as uncomfortable)

The smock hung just generally do not wear a sleeve arm draped over his body can.
NEWSLETTER SUBSCRIBE (EMAIL)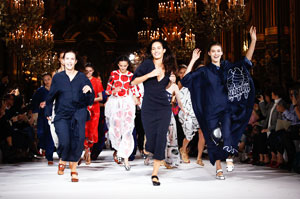 Online Fans