Apparel business
Bikini


Bikini shopping tips If you have not joined the list of women wearing bikinis, then do the following to ensure you will be confident. First, the obvious, buying up real good and make people like a bikini. Second, almost every woman will buy several bikini tops and download, including myself, so that you can choose to sell the brands separately with a swimsuit is a good way, although sometimes some confusion. I also had to convince stores that sold me, trouble is worth. Of course, you can consider buying a vest-style jacket, I like to use it to download it or salon with bikini skirts, trousers, beach skirts. Descendents of a vest than a set of swimwear look younger, more subtle than with the bikini, especially if you have no confidence in their lower abdomen when. Of course, want to make yourself look skinny little bikini is ridiculous, but really make you more charming chest and hips more.

remember that unless you have a pair of long, slim legs and slender build, or do not wear boy-style pants, really is not kind. Most people's body was dressed in the back of a spoon-shaped cutting line or more beautiful swimsuit pants. People think is interesting, not covered in the hips the more significant the more thin, and many women wear less, for example, some people wear a high waist cut of the bikini but better than the one-piece models. Neck strap adjustment often Zaochu charming cleavage, and some women with large breasts may choose to strip the coat care, but this effect will be exaggerated. I personally like the thin little girl swimsuit wearing thin tape. Election bikini, the color is the most important factor. I found myself during the holidays is very suitable for the beginning of lavender, blue green, because color very pale; other tanning sessions, warm, fun colors on the turn. I do not like the color is white when wearing white bikini, but after tanning has become my first choice is white. I like to watch that kind of person: usually in the city wearing a black and beige, to my holiday, so that they will immediately become a colorful butterfly. Yan those girls wearing pink and orange, is dazzling. I have lived in India for a long period, where the women wear bright colors so that the spirit will all inspire me.

as important as that with the bikini beach gown, sexy is the key. Do not let people think you are not confident of their robes, and I personally prefer the salon, particularly gemstones transparent color, texture, light as onion silk hand embroidered in India with some of the collar and cuffs. When you put on such a bikini when outside, who will care about what your belly? Almost all have shortcomings, there is not a perfect place, that will make us less confident. So we have to do is to avoid weaknesses. Cleavage may be fascinating, and perhaps long, slim legs, rounded shoulders, back and so attractive that he always has at least one beautiful location. My advice is: never enough you stressed out. To know that you are crying to the others: "Look at my ugly legs" is not noticed before them.

a Meirutianxian girlfriend, Ye Hao figure, but would not reveal the abdomen, because the pregnancy left some scarring. Even in the holidays to see her, no one thought she was "deliberately hidden," because she always dressed so sexy, piece halter swimsuit, or to show the vest with a miniskirt figure. She has full breasts, the perfect back, slender legs, her body seems to me to like a work of art as beautiful. If you really do not like certain parts of themselves, do to others that are not on the line. If the summer do not wear white pants, I will certainly feel they lack something. When the first purchase, I bought two different the second time I would choose three ... ... really made me mad! Take the time to choose a most suitable for their own right. Go to the beach bar at night, full of elasticity and sexy dress is my favorite; but during the day, relaxed Zhitong Ku is an absolute priority.

said the beach bar, remember the first time in the preparation line to buy some beautiful vest or jacket that can be stuffed in the bag at any time in the swimsuit on the cover, in case the way back from the beach it was proposed to Bar do? I think the worst thing in the bar wearing a dirty swimsuit, a towel wrapped around his waist, hair wet, money is frightening to drink a large mouth, and moving around is full of elegant women. I will usually install a small beach bag, vest and Chiffon Sharon to cope with this situation, but also with a small cosmetic bag, put some kind of simple necessities: lipstick, blush, eyeliner, tanning cream.

'd like to remind that the number would be more beautiful tan. If the skin is shiny metallic color, many shortcomings can be concealed. So buy a big bottle of suntan cream, off to the beach the previous two weeks, began to prepare. I do not want exposure in the sun too long, so a vacation is usually spent by tanning cream.
NEWSLETTER SUBSCRIBE (EMAIL)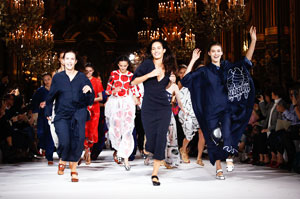 Online Fans