Apparel business
Baby Clothing


For infants less than age wear clothing. 1 to 3 months of infant Regulate temperature perfect, delicate skin, weak immune system, while there are more events, more sweat, sebaceous glands secrete, such as the selection of inappropriate and harmful substances easily through the delicate skin that affects infants, increasing the chance of infection. So, for 1 to 3 months of age choosing science and apparel, infant's physical and mental health is important. To select the warm clothes texture, soft and good moisture absorption, color easily with light color, easy to wash cotton cloth. Summer with the fabric, thin cloth can be used in other seasons. Models should be lenient, simple is appropriate. Asked to wear off easily, not too small. 4 months after the baby 4 months after the baby can be in bed on their own activities, and for safe and comfortable, clothing style should be appropriate, especially underwear should not be large buttons, zippers, buckles, pins and the like, to prevent damage baby skin or gargling stomach . Tape instead of buttons available, but beware not to get underwear cloth belt around his neck, to prevent babies Le injury. 7 to 9 months of age It is a period of school to go climbing training, that they move, easy to sweat, life can not take care of themselves, clothes dirty and break easily. Where, in spring and autumn, outside the cloth to choose strong, easy to wash and moisture, good air permeability fabrics such as cotton, polyester cotton blended, and pure polyester, acrylic fabrics though colorful, sturdy, washable, Quick-drying, but poor moisture absorption, easy to stick dust, dirt. In summer, wear these clothes, baby will feel hot, will students prickly heat, and even allergic reactions. Should choose light colored cotton products, the basic principle is good moisture absorption and reflection of the sun has a role. 10 to 12 months of age Have been gradually able to crawl, to walk, the baby's range also continues to expand, they are curious about the world around them. Therefore, choose clothes for the baby have to consider its characteristics, and pay attention to the needs of the age of baby at this time.

Baby clothing selection First, the baby's underwear, outerwear different requirements. Infant clothing, health standards are high, the baby's underwear is much higher than the frequency change clothes. And compared to suit a diverse range of jackets, baby underwear to be relatively cheap price. Therefore, parents buy clothes for their baby, the better to calculate the most reasonable proportion is twice the number of underwear coat. At the same time, delicate baby skin, in the underwear of choice must be moisture, and Release of good natural fiber, such as cotton fabric and so on as the first. The coat is more stress on the function of warmth, wind and other practical effect. At the same time, infant growth rate was Shaan, out of economic considerations, not all kinds of clothes to buy too much.

Second, baby clothing style in selecting functional clear, it is necessary to facilitate the parents, but also let your baby have a comfortable feeling. Generally not the baby's clothing buttons, is swallowed by fear of danger to infants, so the way to use lace. This is to remind parents not to look good in baby clothes or other unnecessary accessories to choose some accessories to dress, to avoid causing harm to infants. At the same time most suitable for the baby's collar is round neck, the neck will not allow clothing friction baby feel uncomfortable. Summer to lower the collar up, breathe more easily; and winter, on the contrary, to reduce, heightening, easy warmth. Parents should be noted that the baby's optic nerves have not developed to be perfect, so the smaller the baby's clothing should not be big and green with red color stimulation. Terms of the infant, shoes are not too early to prepare, because the baby to learn to walk eight to nine months later, the opportunity to wear socks more than the chance of putting on shoes, so to be more prepared socks, because socks very easy to lose It is better to choose the same style suit, if the loss of one can still wear the pair. Er Jianshi clothes easy to loose, stretch one-piece installation of more suitable and strong baby.

Again, for a bigger principle, to treat them differently. For pants, sweaters, sports jackets and dragon spruce, the principle can be a bigger deal. Roll up their trouser legs, roll up their sleeves, you can wear more than one to two quarters. For the close of the underwear should avoid too large to lose its role of thermal comfort.

Kids fabric fabric components present hazardous substances mainly formaldehyde and dyes. Kids, parents should be preferred in the purchase of cotton fabrics, such as the ordinary cotton or natural cotton products; second color should be as simple as possible fancy elegant, rich and gaudy colors of clothing generally high levels of formaldehyde, while plain clothes and no printing patterns of children's clothing and lower formaldehyde content.
NEWSLETTER SUBSCRIBE (EMAIL)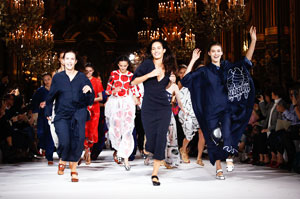 Online Fans