Apparel business
ethnic costume


Traditional national costume national form of clothing, also known as folk clothing. Of national political, economic, ideological, cultural reflection, and embodies the national psychological quality.

National costume in a particular form of social life and the natural environment, meet the nation's living habits and aesthetic awareness. Its national identity mainly in the clothing style, style, color, materials and clothing items and so on.

Chinese national costume dress can be said is: a wide range of colorful; blossom, the development of style; long, continuous; any sublimation, to shine. , Careful observation as long as the Chinese national costumes, easy to see that this national character, richness, diversity, availability, regional features colorful costumes, is the product of historical development, is a unique cultural tradition crystallization, is a symbol of harmony with the natural environment, but also a concrete manifestation of the production life.
NEWSLETTER SUBSCRIBE (EMAIL)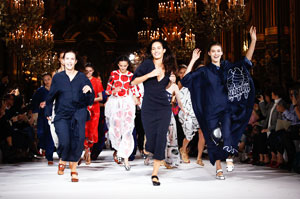 Online Fans