Apparel business
Flares


The name of modern trousers bell-bottoms. The so-called bell-bottoms, so named because of leg Xingzhuang Si speaker. It is characterized by: low-waist short crotch, Jin Guo buttocks; legs under the narrow width, gradually opening from below the knee, knee Kukou size larger than the size, form a horn-shaped. Structural design is based on the trousers, stand crotch shorter, hip relax decreasing the amount due to the buttocks and the crotch (near the knee) part fit fit, as required under the knee to enlarge Kukou. Bell-bottoms by Kukou zoom level, bell-bottoms bell-bottoms can be divided into large and small bell-bottoms and mini-bell-bottoms. Bell bottoms of the length of the length of the upper cover. Small speaker in the crotch trousers mouth slightly larger than about 25 centimeters. Great speakers trousers mouth, and some actually in the 30 cm or more after wearing the broom in sweeping the floor like. Most speakers used denim pants tailoring, garment sewing only dual channel mouth Ji-stitch border open lines.

The emergence of bell-bottoms era has its inevitability. Leading fashion new, and has always been dominated by young people. People affected by the film from overseas, will quietly open legs, reflects a young "post-Cultural Revolution era" rebellious character. In 1978 the first year of reform and opening up, the part of young people, not to suppress their own individuality, dare to break tradition, when these students with mental rebel wearing bell bottoms into the campus, into a more people's attention, stylish bell-bottoms for many students itching heart. Affluent students something to be bell-bottoms to do a number of tailor shops, not enough students to their own conditions with the original pants "modified." Wear such pants, for them it is the world's most fashionable.

Bell bottoms emerging social significance is that before people only clothes, no fashion, the emergence of bell-bottoms, overturned decades of serving the Chinese speakers on the stereotyped perception of trousers. It became the Chinese aesthetic habits of young people first challenge, although the first challenger to only a very few, however, it is the challenge of a handful of people, quietly changing the aesthetics when people dress, also in unconsciously Expanding For all the vision, the people melt with conservative thinking.

Reflects the emergence of bell-bottoms that time China was agitation, publicity of rebellious young man of that age psychology. After the experience of reform and opening up of China, from that time "no decent person" wearing apparel, to the early 21st century trend, the testimony of bell-bottoms gradually become lead fashion icon. Bell-bottoms not only set a time history of Georgia, also engraved with the countless people on the reform of the beginning of the most pristine, most real memory.
NEWSLETTER SUBSCRIBE (EMAIL)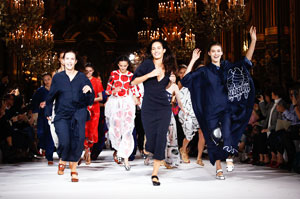 Online Fans