Apparel business
UNIFORM


Professional Services (UNIFORM) is used for groups of workplace uniforms and have a distinct systematic, scientific, functional, symbolic, nature, aesthetics, and so on. Professional services market is extremely large audience, for a wide range of different workplace occupational specific requirements of each service.

Professional services to meet the premise of professional features with practical, identity, aesthetics and assorted. ① practical: to give the wearer to facilitate and meet the conditions for protection of the human body. In general industry, transport, vocational services to the same work environment, adapt working conditions to ensure that the wearer is flexible and convenient. For in the universe, polar, mountain, water and other special environmental work or engage in fire fighting, nuclear tests and other specialty occupations, career service employees must be various parts of the body to provide adequate protection from damage to the working environment to achieve the safe operation requirements. ② identification of: that the wearer can obviously professional, functions and types, so that industry insiders can quickly and accurately identify each other in order to facilitate contact, supervision and coordination; external personnel on the industry, providing services to convey a signal. Some professional services, such as customs services, tax services, business management services, etc., represents a functional state that the wearer within the industry in its power to exercise responsibility. Marked by clothing color and style, and cap badge, shoulder patches and other clothing items to represent. ③ aesthetics: expression coordinated with the professional nature of the aesthetic standards, so that practitioners generate professional pride, easy to serve on a trust in practitioners. Professional services through aesthetics to achieve the desired aesthetic effect purposes. Telecommunications services, such as its green for hope and optimism were the aesthetic effect of the railway service for its security and stability of the blue to give people the aesthetic effect. ④ matching of: shirt, pants (skirt) and hat (helmet), footwear, gloves, etc. should be coordinated wear, cap badge, collar, armbands, belt, also have complementary use. Professional services to achieve the complete, coordinated, unified effect, which play a better role.

Wear requirements

Are: ① mandatory. Employees must wear an industry professional services in the industry, does not allow wearing other clothing official duties.

② timing requirements. General practitioners in the professional services required for all work time wear; some protective clothing such as fire suits, diving suits and other practitioners in the work required wearing.

③ security requirements. Some professional services such as protective clothing required by practitioners in the manner prescribed wear, must be regularly inspected and storage requirements and location.
NEWSLETTER SUBSCRIBE (EMAIL)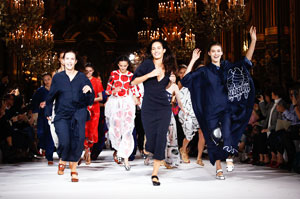 Online Fans