Apparel business
Fast drying


Quick-drying the origin: the so-called Quick-drying is actually from English QUICK-DRY, or DRY-EASY and other similar words literal translation, but refers to the Quick-drying fabric with wool or cotton clothing and clothing when compared to that in the outside world the same conditions, the more likely will go out of water evaporation, dry faster. As the name suggests is the speed of drying clothes dry faster, it does not absorb the sweat, but to sweat clothes quickly transferred to the surface, through the air circulation will sweat evaporation, so as to achieve the purpose of quick-drying, fast drying general The drying rate faster than the 50% cotton fabric.

Quick-drying performance: Some people think that quick-drying clothing is very mysterious, that inside there are many high-tech into a quick-drying lint percentage, in fact, the majority of quick-drying clothing is made of chemical fiber fabrics, only because of the different processing technologies, so that its own ordinary clothes do not have all the magical effect. Speed tip Luan White Nao fluorene ring removal Nightmare Long Pang wine container? Absorption is not high, good air permeability (due to different materials) may be water repellent nature of the body temperature after being wet or under the action of wind, as opposed to ordinary clothing faster drying.

Quick-drying of the design concept: Quick-drying with quick-drying clothing design principles, use of the environment are inextricably linked. Quick-drying outdoor clothing should be generated using the environmental requirements. In general, spring and summer can be put on the turn of quick-drying clothes, and this time they should be easy compared to a heavy jacket, much more practical. Quick-drying clothes initial design concept is based mainly on two considerations: A, internal factors, as people engaged in outdoor activities more easily sweat. If a large amount of exercise time, the body will sweat. If this time you wear ordinary clothes, they will be firmly affixed to your skin, especially uncomfortable. But the quick-drying clothes do, they can be volatile volatile sweat quickly to in vitro; B, external factors, field walking, morning dew or drizzle will wet your clothes, if trouser legs close to the leg It will bring discomfort. If it is quick-drying clothes, so their quick-drying performance and water repellent properties will allow you to remove these unnecessary troubles. Quick-drying fabric: clothing brands on the market there are numerous quick-drying, the fabric used is endless, it is dazzling. In fact, quick-drying clothes outdoors common fabric used is simply following common fabric, COOLMAX This is one of the most common and relatively widespread use of a range of fabric developed by DuPont. The outstanding feature of the fabric is a strong perspiration sweating function, which thanks to COOLMAX the hollow structure, but should look carefully at the time of purchase COOLMAX fabric contained in the ratio; THEMOLITE thermal properties of this polyester fiber Yes, is hollow polyester fiber series, but the drawback is relatively poor performance of some of perspiration; MONI-DRY moisture wicking fabric is, the company has developed COLUMBIA produced. Its main characteristic is superior to the volatility and water absorption, stronger than ordinary cotton cloth 2 - 3 times, thus effectively keeping the wearer comfortable and dry; CIBAULTRAPHIL is Ciba's products, the biggest advantage of the fabric is comfortable, easy to clean, is optimized specifically for Ciba wet clothing and control capabilities and enhance its aesthetics and design, the fabric can be a good help perspiration, the body always stay dry and very good comfort, in addition, can not afford static electricity, so that lasting clothes bright as new; ACTIVENT This is the U.S. company out of a GORE both wind, very breathable, but also against the water, chemical material, it is a film, nylon material needs and other pressure together with a more suitable bike lovers; MCS is a kind of protective technology synthetic fiber fabric, with strong moisture absorption ability, to award surface absorb moisture quickly, while the fabric has high abrasion resistance and anti- deformation, can not ball, anti-tear, after the repeated washing ironing to maintain bright colors.

Quick-drying fabric principle: this is a very specialized problem, the use of different fabrics are not the same principle, have used similar characteristics of shape memory polymer theory; also have use of microporous film theory; also use molecular diameter of water droplets and water molecules, the difference between air molecules theory, etc., here, will focus on using micro-membrane theory. Use of quick-drying fabric microporous film theory is very common in the market. The Quick-drying is the use of pore size between water molecules, the maximum diameter of air molecules and the minimum diameter of water droplets between the molecular layer of film, then film outer layer of fabric with the compound, so there will be a waterproof breathable fabric effect . This GORE --- TEX somewhat similar principle, the principle of using this material, play a role is that of the film with a microporous, water repellent to play the role of both permeability also play a role, whether it is used micro-membrane theory, or else the principle are in fact different chemical fiber fabrics Bale.

Market purchase

In the domestic market, quick-drying fabric used in a wide range of underwear, and do not consider the brand, one is from the fabric can be divided into two types: one is not waterproof, but breathable quick drying good performance; other water repellent, ventilation. For the first fabric, DuPont (Dupont) produced CoolMax fabric should be the one everyone knows, the other principles and CoolMax fabric is almost waterproof, where the main brief CoolMax. DuPont CoolMax is a patented technology developed four-channel fiber. Four-channel fibers, and the largest space between the fibers, to ensure the best ventilation and moisture to the skin surface rapidly distributed to the outer layer of conductive fibers. Although cotton can absorb sweat, compared with, but its capacity is not high perspiration, and general fiber in the absorbent capacity of the poor then, and CoolMax fibers absorb moisture and perspiration are far superior. But to note that some manufacturers of quick-drying CoolMax underwear while hanging the tag, but not marked CoolMax fabric used in clothing proportion. Since DuPont CoolMax is a patent, so the higher the fabric with CoolMax cost of more expensive, JS in order to reduce the cost of course will use a lower proportion of CoolMax fabric, the fabric for better friends Do not neglect this. So, is the higher proportion with CoolMax fabric is not the quality of the more good? Of course not, a high percentage of CoolMax fabric bursting strength is low, the ratio decreased CoolMax, although the intensity may increase, but its easy to dry and breathable performance will worsen, we may choose their own video. In addition, the polyester fiber has a very fatal weakness is the static problem, exposed to dirt. If you go outdoors to go hiking or in hot environments, they should select a high proportion of CoolMax products, such as 100% or 5% Lycra blend products, their personal sexual and stretching is better. If only the words of daily use, in terms of comfort or durability it, 50% CoolMax enough.

In selecting such a quick-drying, be sure to see signs on the show's CoolMax and other fiber content, if not indicated, it can be concluded that the basic fake the. For the second fabric, the most common quick-drying fabric is common outside the production with a layer of DuPont Teflon coating, its most important feature is water repellent and excellent resistance to stain resistance. In fact, "coating" that was not appropriate, the official statement by DuPont "Teflon application is to make textile fibers in the molecular size of the nano-coating within. Thus every root fibers are equipped with the best moisture waterlogging resistance, while their various advantages they get the best protection. "fabric with Teflon coating, fabrics will not change the look, feel and breathable, quick-drying fabric looks no ordinary intuitively differences, without the liquid spilled on clothes, you will not feel the presence of Teflon. In selecting such a quick-drying underwear, be aware that not all of the water repellent fabrics are coated with Teflon, and some only on the surface coated with a layer of water distribution agent, which is true to the "coating" it can played similar to the water repellent effect, but such a fabric of underwear in the wash a few times, it will completely lose waterproofing and waterproofing spray sold separately to restore its role. For good water repellent Teflon or other material, the easiest way to differentiate is to use some water (it must be a clear water, or JS would you go all out) splashed on it, gently rubbing, authentic fabric clothing is not water damage occurs.

Quick-drying materials commonly have Scotchgard (3M Company), Teflon (Dupont Corporation), Supplex (Dupont Corporation), Pro-Dry, Ciba, MinlanDry, MCS (and UV), HyperStretch, Omni-Dry (Columbia UV index of 30 companies ), Dryflo (LoweAlpine company), PloartecPowerDry (MaldenMills company), while some companies will also speed drying to add other materials to serve their special features such as anti-ultraviolet Rayosan fiber, MCS, UV-Cut fiber, UV-Con-trol, can enhance the flexibility of the Stretch materials and more.
NEWSLETTER SUBSCRIBE (EMAIL)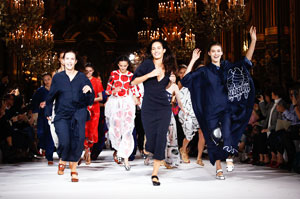 Online Fans