Apparel business
Tights


Tights, leggings, also known, is tight from the waist to the feet of the pants. Because it is dressed similar to the tights, so called in take socks, socks without end. In the early 1980s, fashionable women wear pants to do fitness and aerobic exercise. 2005, fashion trend is to wear miniskirts with black leggings. Also known as the "take socks inside" type are tights, is not covered soles of the socks, dress socks are between the knee when the ankle, the normally female dancers are wearing. As with tights, a lot of material, there are cotton, nylon, wool blended.

Pants to bring out the human curve, especially pants to outline the lower body of the curve, so that my hip is even more perfect, to make legs look slender. Therefore, won the women's favorite, but if you dress properly will reveal their shortcomings.

Leggings trend is the focus of this quarter, supporting the previous status change, this season's tights, but necessary to create all kinds of different styles of single items. But to remember that the trend is the trend, the trend is not something you put on good looking, tight pants that things in general, the more suitable for the perfect female body, not good for the body of women is undoubtedly your shortcomings exposed in the sun.

Usually referred to tights, great to have two, one is to wear as pants, one is only as socks to wear, also known as pantyhose.

For you can wear tights as pants is because the hips can be sticking out, so be sure to pay attention to the choice of underwear, you can choose some thin underwear boxer underwear or no trace, do not let the hip line significantly appears. Otherwise, your elegant style make complete failure.

For tights tights for class, do not put hip sticking out, but rather use the shirt to cover the buttocks. Otherwise, the high flexibility of tights will your body exposed, it is very unsightly.

Thick leg women's pants do not select color printing, color printing because the visual will make people feel thicker legs. But then, everything has two sides, for the women, smaller legs, color printing tights Daoshi a good choice friends.

More transparent tights, try not to wear, because it is bad style women's clothing, to avoid other people you say flasher. Choose according to your body tights

Slim, well-proportioned women can wear what.

Voluptuous women recommended that you wear dark, simple style pants.

Xiao Dudu highlight the best selection of women's pants high waist, thick legs, choice of flexible pants.

If you simply want to wear tight pants or skirt without showing signs of underwear, several comfortable to choose the "basic models" pants. If it is for these purposes, do not select too fancy. Appropriate choice of design can be simple, pure cotton. Oh uncomfortable. Although the width, but that is tight pants, still no trace of wear. This is what I say "basic models," the.

Cotton's permeability, soft and comfortable. Will give you personal protection. A lot to look good, choose lace or stretch nylon yarn transparent tights. Of course, this style of pants more than cotton, a stunning visual effect. Not just to look good wearing tights sexy Well.

To choose a backing of cotton. Do not select too small pants size. The reason is very simple, if the size is too small, not just waist there is very tight, very tight hips there.
NEWSLETTER SUBSCRIBE (EMAIL)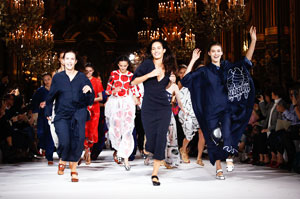 Online Fans