Apparel business
Home Services


To trace the origin of domestic service, have to mention pajamas. Home services even today, many people do not understand the difference between domestic service and where pajamas. Transformed from the home subject to pajamas, but now long out of the home service concept of pure pajamas, covered a wider range.

Europeans from the 16th century has been put on pajamas, pajamas with the changing times are also constantly change the image. To the last century, the social climate has become loose and active, bedroom style dress is also toward the development of new, fundamental change. Of the 20th century the value of 90 is a more modern and functional stage, this new passion is the family life of the world's growing popularity as a supplement. Advancement of technology and streamlining of business people to make women set up their own business, except to raise children, but also work from home. Nightwear market has expanded to include what people wear to go home areas, but not necessarily is what to wear when sleeping, in this situation, pajamas (Sleepwear) gradually transformed into the concept of home service (Homewear) concept . In addition to fashion, it is also very concerned about my own family what to wear, home service has already gone beyond just the basic needs to wear. Women may be the fashion closet mountains, but they would like to have the latest popular styles and colors of home service. At home requires not only comfortable, want to look more sexy, more beautiful.

In China, the whole concept of Western exotic home service. Before opening the era, there is little specific pajamas, home of the concept, at home wearing a obsolete the old wash clothes, T-shirt is the most normal and simple. With the deepening of reform and opening up, the early 20th century, 80, a professional interior home or abroad, pajamas company brought professional women's underwear and sleepwear product concepts, followed by designating a special shopping Shangshi underwear field area, sleep garment district, various independent pajamas clothing Caibei and acceptable by the majority of people. Just two decades, China's economy has changed dramatically, greatly enhance people's spending power, the sense of living conditions and dressed with a leap of development. Home service of all urban and rural residents has in-depth family, forming a huge industry, more and more specialized market segmentation, the model has become increasingly becoming international.

Health, comfort, simplicity, are the main line of contemporary home design service, as today's lingerie products become more and more soft, and the trend in the 21st century is the use of more ultra-thin super-soft fabrics and multi-processing more soft updates feel, so will appear richer, more detailed household clothing. Same time, because the charm of more esteemed fashion, fashion influence has been pervasive in the future will be like home services, like fashion, showing a more stylish, more beautiful look.
NEWSLETTER SUBSCRIBE (EMAIL)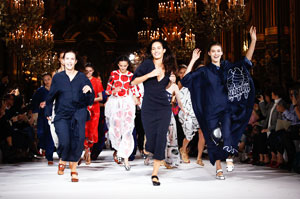 Online Fans